Needed: First-class training for mayors
" ...City leaders must contend with a series of tectonic changes that require steady hands and bold action. Automation and technological advances. Demographic shifts. Climate change. Unprecedented budget constraints. Geopolitical instability...

Yet mayors encounter deep resistance to change and an aversion to risk even when everyone agrees that it's time to fix something that's broken.
With a demanding public, entrenched stakeholders and the news media quick to jump on mistakes, being mayor today requires greater access to the latest management, problem-solving and communications tools.
...Being a mayor is, without question, one of the toughest executive positions around. Yet in a country where we spend nearly $14 billion a year on an endless array of courses broadly described as "leadership training," there is no formal training for the job of mayor. We expect the people who lead our city halls to rely only on what they bring to — and learn on — the job...
Today's mayors have to know how to build top-notch teams — hiring for talent and giving those talented teams the room to take risks and, at times, fail. They've got to appreciate that formal powers only get them so far, and that getting big things done often means using soft power and the bully pulpit to capture hearts and minds and build coalitions beyond city hall.
And, increasingly, they have to understand the power of data and know how to drive change, lest their city — and the people they serve — get left behind.
The Bloomberg Harvard City Leadership Initiative, a collaboration between Bloomberg Philanthropies, the Harvard Kennedy School and the Harvard Business School, will make sure our "elected CEOs" have access to the best leadership development opportunities that, until now, were reserved only for their private-sector counterparts.
The inaugural class of 40 mayors — 30 from the U.S. and 10 from abroad, including Andy Burnham — convenes for three days in New York City starting Sunday. These mayors, along with key staff members, whom we will convene later this summer, will be part of a first-of-its-kind executive leadership program that covers the latest thinking and best practices in management and innovation; peer-to-peer mentorship to share what's working and what's not; and the opportunity to interact with and learn from the most dynamic network of urban experts in the world.
Great mayors will always learn on the job. But with all the challenges facing cities, and all the weight we're placing on cities to keep the planet green, keep people healthy, and grow the economy, now is the time to get serious about equipping them to succeed.
Source: NY Daily News Sunday, July 16, 2017, 5:00 AM
Anderson oversees Bloomberg Philanthropies' Government Innovation programs. He previously served as communications director to New York City Mayor Michael Bloomberg.
Glad to welcome the Bloomberg Harvard City Leadership Initiative's inaugural class, 40 mayors ready to maximize their impact.
The Bloomberg Harvard City Leadership Initiative welcomes its inaugural class . . . As you can see, they're excited to get to work.
Retweeted Mike Bloomberg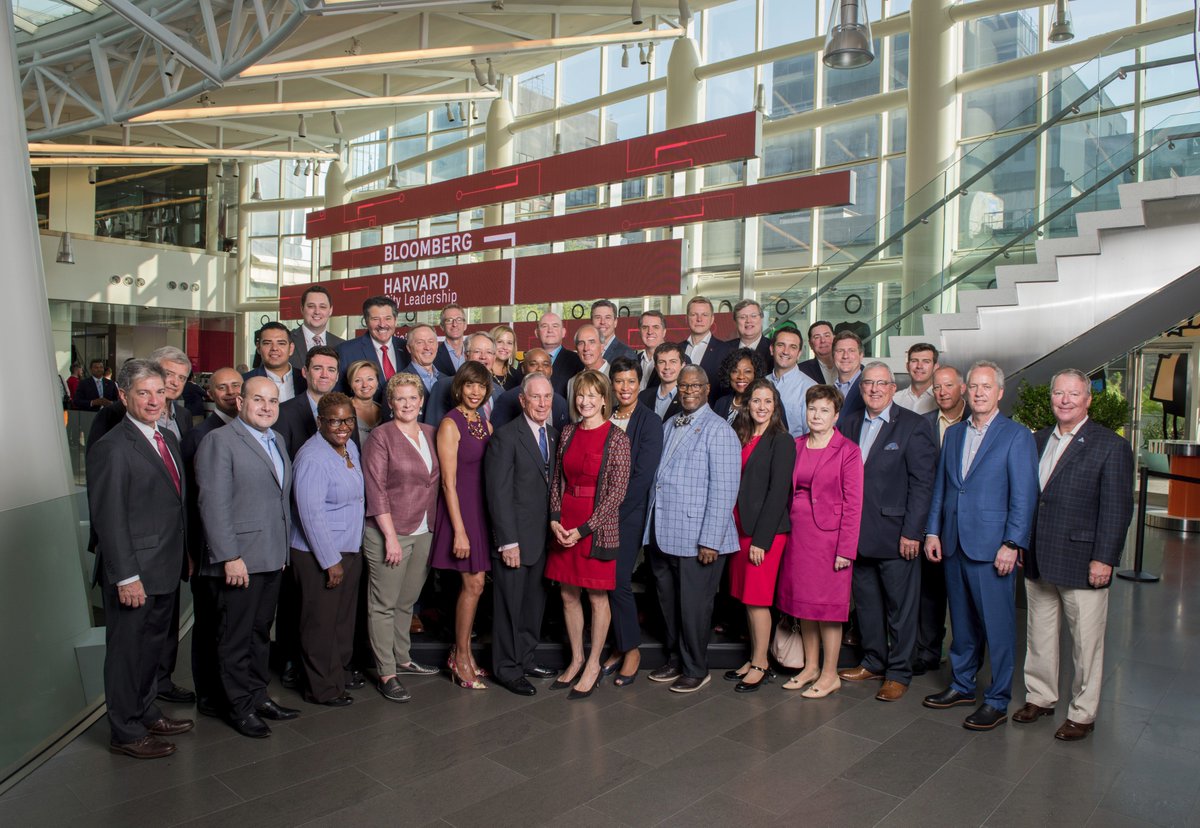 Welcome to the 2017 Mayors Challenge!
To enter the competition, an authorized executive or designate of the executive must submit the information details below. As a next step, you will receive information about the application process.
Link > http://mayorschallenge.bloomberg.org
The American Cities Initiative focuses on three core areas:
Promoting bold leadership and effective problem-solving in city halls;

Advancing critical policies and legislation in areas ranging from education to climate change to opioid abuse; and

Empowering citizens – including artists, volunteers, and entrepreneurs – to solve problems and strengthen social cohesion.
Bloomberg already plays a significant role in shaping some of the nation's fiercest policy debates, having invested millions of dollars in one advocacy group that pushes for stronger gun control and another that promotes liberal immigration policies. He has also made $80 million in donations to the Sierra Club in recent years to help combat climate change.
He last funded a similar contest for U.S. mayors in 2013, but moved the initiative to Latin America and Europe in recent years.
All American cities with at least 30,000 residents are eligible to apply. Applications are due in October with the winners to be announced in October 2018.